It's here, it's here, the day is here! 
THE SPIRAL DEMO IS LIVE ON STEAM, NOW!!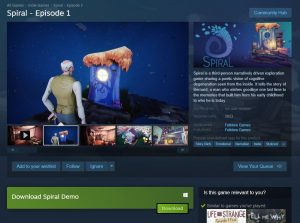 We cannot even begin to describe how excited we are to be able to put this piece of Spiral out into the world and into your hands. Our little team has worked so hard to perfect this sliver of Bernard's story for you and we really hope that you'll enjoy playing through it! If you haven't seen it already, there's also a brand new trailer that we're proud to share: 
For now, Spiral is only available on PC, via Steam (we're sorry to our console players!) but we hope to expand it from there someday soon.
To begin Bernard's journey and step into the world of Spiral, download the demo here and, if you'd like, leave us a little review to tell us what you thought – we'd so appreciate it!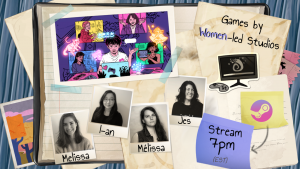 A last (but certainly not least,) piece of news before we go: we're not only be celebrating the release of our demo today but also Women's Day! We've teamed up with wingsfundme and some of us ladies on the team will be streaming the demo over on our Steam page to celebrate the Women's Day Sale! Come hang out with us as we talk game design, building the Spiral demo and answer your questions 🙂 Hope to see you there!
Sending love from everyone in the Folklore family <3